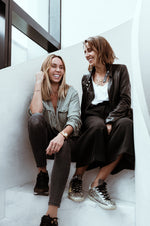 Our Story
lüks is a brand born from the pure love of adventure. It is timeless, borderless, effortless and always authentic. The exceptional and traditional techniques in which the product is created, sets it apart from its contemporaries. Each piece is loomed individually and memorably, it is loomed to last.
A lifetime of travel led Melbourne based friends Angela and Timoli to creating a product they knew was missing. The towels are a tangible translation from their adventures to yours.
A collaborative design approach was taken in replicating the memories of each journey, of each experience of foreign and exotic destinations, and of the people they meet within them.
"In an age of fast fashion and disposable living, we wanted to take our focus back to authenticity, to tradition, to a unique product made from a long line of artists".
Loomed with a subtle sense of luxury, stamped with rock and roll.