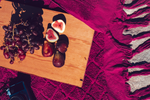 Designing lüks was an opportunity for us to create a product we knew was missing. The towels are a  modern interpretation of an ancient tradition.  They are above all, inspired and imagined by our memories and experiences of the colours and places we have grown to love over a lifetime of travel. In an age of fast fashion and disposable living, we wanted to bring the focus back to  authenticity, to tradition, to a unique product made from a long line of artists. 
Each piece in our range supports the local craftspeople of their region. By employing families that have been looming for generations, we are supporting an age old textile industry that is sadly dying. With mass production of textiles, the art of hand looming is becoming a rare and forgotten about craft. 
We have spent the last 4 years working with these families to be able to offer you a 
unique and individual homewares brand. One that represents an authentic quality that can never be replicated.